A  quick fix to try if can't find your Event Pan/Crop window in Vegas Movie Studio 14 on Windows
Okay,  Microsoft and Windows do it once again. You know, waste your time. You are trying to edit your video in Vegas studio. You exit the program and come back in, and still when you click the icon to crop your media, and you can not find the window anymore! The window seems to have disappeared!
So if you can not find your Event Pan/Crop window try this: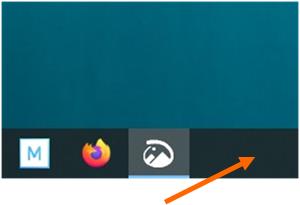 Right click the windows task bar at bottom of screen
TIP: Be sure to click the windows task bat, NOT the task bar at the bottom of Vegas
Select Task Bar settings in the pop-up window
Turn Automatically hide the taskbar in desktop mode to On
Look for the Crop window at the bottom of your screen
Grab the Crop window and move it up
Stressed? Who wouldn't be? You couldn't find the main thing you use to edit your videos! Watch this video or download one of free products to help calm down!
If you have this problem and are stressed out,  please visit our Free Relaxation Downloads Page for immediate relief! You can watch a relaxation video or download a relaxation MP3!